See on Scoop.it – Tailored and Styled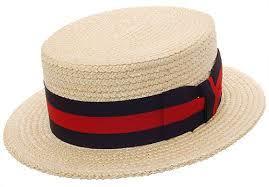 "Not long ago, we were a country of hat wearers. Hats were tipped, raised, handed, tossed, snapped, passed, checked, waved, and eaten (metaphorically, at least). Many believe the end of this way of life was precipitated by the presidential inauguration of a bareheaded John F. Kennedy; suddenly desperate American hatters were convinced that persuading the young, charismatic new leader to wear a hat would save their declining business."
Joseph Scherrer's insight:
This comprehensive article on hats describes the demise of what was once a ubiquitous part of men's style.  Back in the day, it was not uncommon for a man to have a "wardrobe" of hats to fit every occasion.  There were also extensive guidelines on how to carry one's hat that all young men were taught.
Those days are long gone though and that's a shame because not only do hats protect your head from the sun, they look darn good.
However, if you were to show up at work wearing a Boater or even a Panama, you'd probably hear a few chuckles.
For me, going without is not an option since I don't have much natural protection on top anymore.  And I'm sure you'll agree that slathering on the sunscreen is not a suitable substitute for a hat.
In the winter, you might be able to get away with wearing a Fedora, but anything beyond that, such as a Homburg or a Bowler, and those sideways glances return.  On the other hand, if you were to wear a baseball cap with your overcoat people wouldn't look twice.
Yes, it shouldn't be this way and you shouldn't care.
So maybe the way to start bringing the dress hat back is to just start wearing them.
By Joe Scherrer | Tailored and Styled Writer
See on www.lewrockwell.com
Article publié pour la première fois le 10/06/2013