See on Scoop.it – Tailored and Styled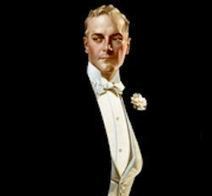 "Over the course of his career, artist J.C. Leyendecker illustrated the covers of numerous magazines including 322 covers for Saturday Evening Post between 1899 to 1941, more than even his protégé Normal Rockwell.  But he is equally well known for his contribution to fashion illustrations thanks to his advertisements for menswear manufacturers B. Kuppenheimer & Co and Cluett, Peabody & Company, maker of Arrow shirts and collars."
Joseph Scherrer's insight:
This piece from Black Tie Blog tells of the long career of artist J.C. Leyendecker. His works helped to defined the golden era of men's classic style during the 20's and 30's.
The post contains a nice sample of fanstastic artwork from Leyendecker.  Each is meticulous in its execution and successfully illustrates the aura and class of men's formal dress in that era.
I appreciate mastery when I see it, and Leyendecker was a true master of his artistic genre.
Not only that, you can learn a lot about formal wear, what to wear, when to wear it, and how to wear it well by studying his illustrations.
By Joe Scherrer | Tailored and Styled Writer
See on blog.blacktieguide.com
Article publié pour la première fois le 24/06/2013