See on Scoop.it – Tailored and Styled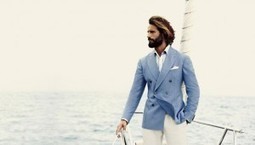 by Sonya Glyn Nicholson, PG Senior Editor. It's surprising to notice that so many people with exquisite taste fail to notice the importance of a good collar fit with no "collar gap".
Joseph Scherrer's insight:
You want your jacket to fit well right?  One of the aspects of fit that is often overlooked is how the collar lays around the neck.
One of the disadvantages of off-the-rack is that you get what you get.  And more often than not, you get a collar that gaps.  Once you notice it, you won't be satisfied with anything less that the right fit.
Sonya Glyn Nicholson gives an excellent rundown of what this looks like and how to avoid it to include a section of "the physics of collar fit."
Enjoy this very educational piece.
By Joe Scherrer | Tailored and Styled Writer
See on parisiangentleman.co.uk
Article publié pour la première fois le 20/05/2013