See on Scoop.it – Tailored and Styled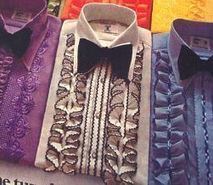 "…I am presenting here a history of the infamous ruffled shirt for your amusement and edification.  If nothing else, let this be a lesson on why you should never take your fashion cues from sources that mindlessly insist anything new is good and everything old is bad."
Joseph Scherrer's insight:
A typically well-researched article from the Black Tie Guide.  This time Peter Marshall writes on ruffled Tuxedo shirts, that staple of 70's proms and discotheques.
I love how he begins his analysis, " The decline in formal shirt fashions can be traced back to around 1957, the year that GQ made its first reference to ruffled fronts."
He then goes on to provide a nicely illustrated chronological history of the ruffled shirt's development.
You can clearly see how the ruffles grew progressively larger and more ostentatious. Especially with the arrival of colored ruffled shirts in a whole spectrum of colors in the late 1960's.
The low point may very well have been in the 70's and 80's with the marriage of ruffles and polyester.
You can hardly think of these these shirts without associating them with the days of disco.
I have to tell you though that I dig the look.  In fact I have a genuine 3-piece polyester disco suit from the 80's:  it's hideously cool.
I use it to channel my Tom Jones impression.
By Joe Scherrer | Tailored and Styled
See on blog.blacktieguide.com
Article publié pour la première fois le 11/09/2013