See on Scoop.it – Tailored and Styled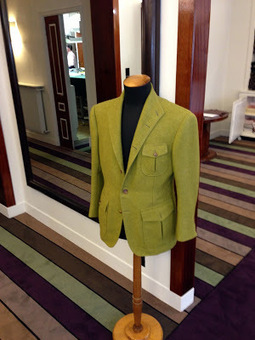 My favorite way to have my jackets made up for buttoning is "3 roll 2."  It's not only classic, but the way the lapels bloom down toward the button adds an excellent aesthetic touch.
So when I saw this 5 roll 2 jacket in a post from A Suitable Wardrobe, it got my attention.  First, because I'd never seen one, and second, because I was intrigued by its potential utility as an option for a fall jacket.
According the post, the jacket was made by Cifonelli, a renowned French custom clothier.  This particular model is called the "Qilian" and it's both unique and practical.
The pockets of the jacket have flaps to keep out the rain and bellows to hold shotgun shells.  The neck can be buttoned up which is fairly standard for a country jacket, and it's also half belted.  What's different are the two additional buttons on the upper part of the lapels so that the jacket can be progressively closed up as the weather dictates.
Very creative.  Go to the "Cifonelli Creations" page to get more of an idea of what they are able to do.  For example:
Here's what they say on the site:
"Almost perfect homogeneity between French tradition, Italian lightness and English structuralism.  Each item is perceived as a true work of art!  Minutiae and precision are the keywords for the application of Cifonelli expertise. Approximately eighty hours are required to create a bespoke suit.  Whether it is the famous shoulder cut towards the front and offering unrivalled freedom of movement or the high armholes which refine the figure, a large number of creations demonstrate this perfect command of forms and materials.  Milan-style buttonholes, step collars, special lapels and other stylistic devices perfectly symbolise the spirit of Cifonelli…"
Seems to me they've got something special going.
By Joe Scherrer | Tailored and Styled Writer
See on asuitablewardrobe.dynend.com
Article publié pour la première fois le 20/07/2013