See on Scoop.it – Tailored and Styled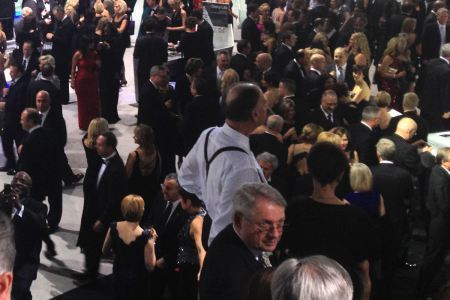 You know that guy at a formal party who takes off his jacket the first chance he gets? Don't be that guy."
See on blog.blacktieguide.com
Joseph Scherrer's insight:
Humorous article about "that guy" who takes off his Tuxedo jacket the first chance he gets at a black tie event.
Case in point here is the man in the photo who is the only one in a crowd of event goers at the North American auto show without his jacket on. He seems to be searching for someone…maybe it's that one other guy who took his jacket off.
I recall going to many military balls during my time in the Air Force. We had specially made formal uniforms called "Mess Dress" for the occasion that surpassed the Tuxedo in my view. The addition of braided rank, insignia, and medals helped in that regard. More pomp and circumstance.
At any rate, there were always a group of officers who after the main program was complete and the band began to play would whip off those jackets. Unbeknownst to the crowd they had modified the backs of their formal shirts with some kind of wild fabrics. Most common were Hawaiian prints, college logos, or the Texas flag (for those who were from that state).
These jacketless, wild-shirted men wanted to signal to everyone that underneath the formal exterior of the uniform that they were hard-partying rebels. Which was usually true.
In any event, if you get invited to a formal event, don't take off your Tuxedo jacket. One, it doesn't look good, and two, you're probably too old to be a hard-partying rebel.
By Joe Scherrer | Tailored and Styled
See on blog.blacktieguide.com
Article publié pour la première fois le 31/03/2014