See on Scoop.it – Tailored and Styled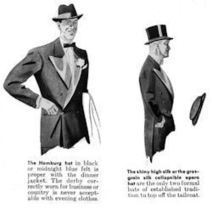 Here's an interesting look back at the "correct details" of evening clothes circa 1940 courtesy of Esquire magazine.    While some of the advice is specific to that particular period  the vast majority still applies today.
Joseph Scherrer's insight:
The other day I wrote a post on Tailored and Styled about the demise of the "rules" for dressing.
In the piece, I noted that men had books, pamphlets, and newspaper updates to inform them of what to wear when.
In that spirit, I found this rundown on the "correct details" for evening wear from Peter Marshall over at Black Tie Guide to be very illustrative of the resources men once had at their disposal.
I might say too nearly all of the advice offered in this nearly 75 year-old piece is as applicable today as it was then, although you don't see very many Homburgs or silk top hats any more (also a subject of another Tailored and Styled post).
Here they are in brief:
1.  The collar of a wing collared shirt should have a forward slope
2. The pleats or "bosom" of a formal shirt should not extend below the waistband of the trousers
3.  Pleated formal shirts are acceptable for formal wear
4.  Pleated formal shirts should always have French cuffs
5.  For white tie, a white butterfly bow tie is worn in front of the wings of a formal shirt.  A black or midnight blue club bow tie is appropriate with a Tuxedo jacket
6.  A backless waistcoat is acceptable for wear with formal wear
7.  Grosgrain lapels are preferable to satin
8.  Only wear a white silk or knitted scarf with your Tuxedo
9.   White gloves are obligatory for formal wear
10.  Black cotton socks with white clocks may be substituted for plain black socks
11.  A black or midnight blue cummerbund may be substituted for a waistcoat
12.  Your tailcoat should be long enough to cover your waistcoat
13.  If you wear a hat with a Tuxedo jacket, it must be a black or midnight blue Homburg
14.  If you wear a hat with a jacket with tails, only a silk top hat or collapsible opera hat are suitable
15.  Pleats on pants should face the center
16.  There should be slight break at the bottom of cuffless pants
17.  If you wear an overcoat with your Tuxedo, make sure it is either dark blue or dark grey
Highly recommended for all with excellent illustrations and accompanying explanations.
By Joe Scherrer | Tailored and Styled Writer
See on blog.blacktieguide.com
Article publié pour la première fois le 05/07/2013