See on Scoop.it – Tailored and Styled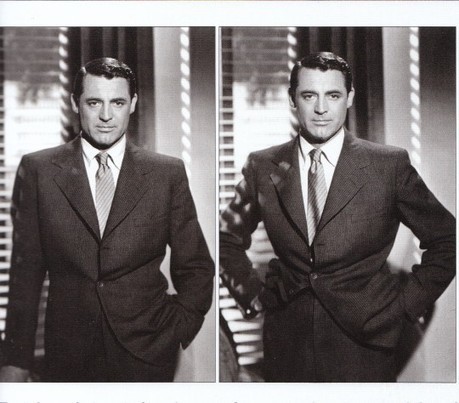 "No, it isn't only money that determines how well a man dresses—it's personal taste. Because of the demands of my work, I've purchased dozens of suits over the years and they all have one attribute in common: they are in the middle of fashion."  –Cary Grant
Joseph Scherrer's insight:
Couldn't pass this article up by one of the all-time masters of classic style:  Cary Grant…in his own words and republshed by GQ.  When viewed in light of our current list of classic style principles, Mr. Grant embodied most of them.  In fact, his article starts off with his, "one attribute in common"…"the "middle of fashion."
This phrase of his, "the middle of fashion,"  is an excellent example of the Golden Mean, one of our fundamental principles.
The article is packed with other insights:
– On Proportion:  "the lapels are neither too wide nor too narrow, the trousers neither too tight nor too loose, the coats neither too short nor too long."
– On Simplicity:  "…simplicity, to me, has always been the essence of good taste."
– On Fit:  "I believe men's clothes—like women's—should attract attention to the best lines of a man's figure and distract from the worst."
– On Quality:  "…permit me to suggest you buy the best you can afford even though it means buying less.
– On the First Suit to Buy:  "Well, if a man's budget restricts him to only one suit, then I would choose something unobtrusive. A dark blue, almost black, of lightweight cloth, serviceable for both day and evening wear."
– On the Second Suit to Buy:  "What about a second suit? Well, I think a grey worsted or flannel would be most serviceable. Not too light in color, not too dark."
– On a Summer Suit:  "During summer I've taken to wearing light beige, washable poplin suits. They're inexpensive and, if kept crisp and clean, acceptable almost anywhere at any time, even in the evening."
– On Shoes:  "If a man must limit himself to only one pair of shoes for city wear, then they should be black. If two, then a brown pair of darkest chocolate color are useful with almost all suits"
– On Shirts: "Shirts should usually be white for the evening, but, in the city's grime, it's practical and permissible to wear a light blue or conservatively striped shirt during the day."
– On Proportion II:  "The type of collar should suit the contours of the neck and face."
– On Gentlemanliness in Dress:  "Don't be a snob about the way you dress. Snobbery is only a point in time. Be tolerant and helpful to the other fellow—he is yourself yesterday."
– On Refined Elegance:  "So wear, not only your clothes, but yourself, well, with confidence."
Folks, it just doesn't get much better than this–read the article and save it to your hard drive for future reference.
You can read even more about Cary Grant's approach to both his style and his career in the excellent book, "Cary Grant: A Celebration of Style" by Richard Torregrossa.
By Joe Scherrer | Tailored and Styled Writer
See on easyandelegantlife.com
Article publié pour la première fois le 19/04/2013