See on Scoop.it – Tailored and Styled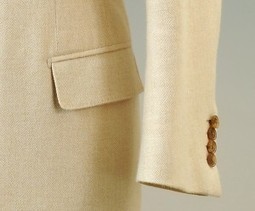 "Gentlemen, Here is a small article coutresy of our friend Paul Grassart (website – in french : Paul Grassart Tailleur), about the all-too-often forgotten jacket pockets"
See on parisiangentleman.co.uk
Joe's Insights:
This is an instructive piece from Parisian Gentleman on the ways you can customize your jacket pockets.  It is a nice follow-on to our interview with bespoke altelier Jon Green.  A wide variety of customizations are available when you go custom-made and your pockets should not be overlooked.
As indicated in the article, there are three main parameters that can be adjusted:
– The vertical position of the pocket
– The width and length of the flap
– Slanted versus non-slanted pockets
The article has excellent illustrations of each.
To this I would add pocket shape and pocket decoration.
For instance, here is an unusual example of a "barchetta" (little boat) patch pocket:
With regard to decoration, here is an example of pockets with pleats from Paul Stuart's Phineas Cole line:
By Joe Scherrer | Tailored and Styled
Article publié pour la première fois le 26/08/2013