See on Scoop.it – Tailored and Styled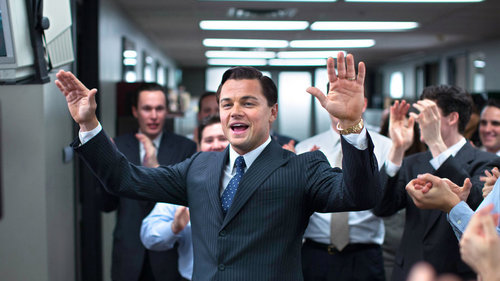 Power suits of the 1980s and '90s, as seen in "The Wolf of Wall Street," have given way to tailoring that hints at wealth quietly.
See on www.nytimes.com
Joseph Scherrer's insight:
Ah, the 80's.
That decade of greed, excess, and conspicuous consumption.
And don't forget mullets (guilty as charged), wide-shouldered double breasted suits, parachute pants, Vans, and Z. Cavaricci's. The Ivy look and Miami Vice pastels were in for a while too.
I came of age during this decade (seems hard to believe that so much time has gone by) and have a lot of fond memories from that time.
Looking back, the fashion-driven, over-the-top look kind of makes me cringe, but at least it wasn't as horrid style-wise as the 70's (see the film American Hustle to see exactly what I mean).
This article from the New York Times reflects on the style of the 80's as exemplified by Martin Scorcese's film "The Wolf of Wall Street."
In the film, Leonardo di Caprio plays John Belfort, a real flesh and blood stock trader who rode a dazzling wave of financial success during the halcyon days of junks bonds and hostile takeovers.
Of course, his ride came to an ignominious end when the Feds finally caught up with him and off to prison he went.
What's really interesting to me is the way the article pulls in mostly anonymous contributors who are apparently working on Wall Street today. In somber tones, you hear them say things like:
"The power suit is over."
"Less is more today. Finance is less brash, and so are its clothes."
"Any external sign of wealth in how Wall Street dresses has been replaced with a desire to look average or normal."
"I haven't worn a pocket square in years,"
While this may be true for many in the Wall Street set and a large swath of the suit-wearing public, what it all amounts to is another demonstration of the fickle nature of fashion.
To paraphrase Mark Twain, "If you don't like the fashion in business, wait five minutes and it'll change."
The current fashion trend is explained well in the article:
"…slimmer, more form-flattering suits, like the J. Crew Ludlow suit. It also means thinner ties; socks with more color or personality; and, particularly for those who do not have to wear ties, shirts with spread collars in fabrics borrowed from the "heritage hip" look…"
Now, I've commented on this trend before. Slim suits are great—if you're slim. But if you're a normal American male, i.e. mildly overweight, slim suits are going to look ridiculous on you. So, why would you ever want to wear one, especially when they're going to be "out" in a couple of years (think I'm joking? I've started to see wide-lapeled sport coats show up on celebrities.)
The best, most generous answer I can offer is this:  because you've not been properly educated on how to dress with timeless style, you take your cues from your peers and the trend-setters so that you'll "look right" and "fit in" while also feeling like you're on top of it because you're wearing what's "hip" at the moment.
Not only does this approach cost more money (you have to change your look constantly to keep up), you are actually abdicating your opportunity to establish a true style of your own that works day-in, day-out, year after year.
How is this possible?
Because there are timeless principles of classic style that have been worked out over hundreds of years, that if you follow them, will guarantee that you'll look great and put the best possible you on display in an effortless, elegant way.
My advice: Don't follow the trends. Follow the principles instead.
By Joe Scherrer | Tailored and Styled
See on www.nytimes.com
Article publié pour la première fois le 03/01/2014